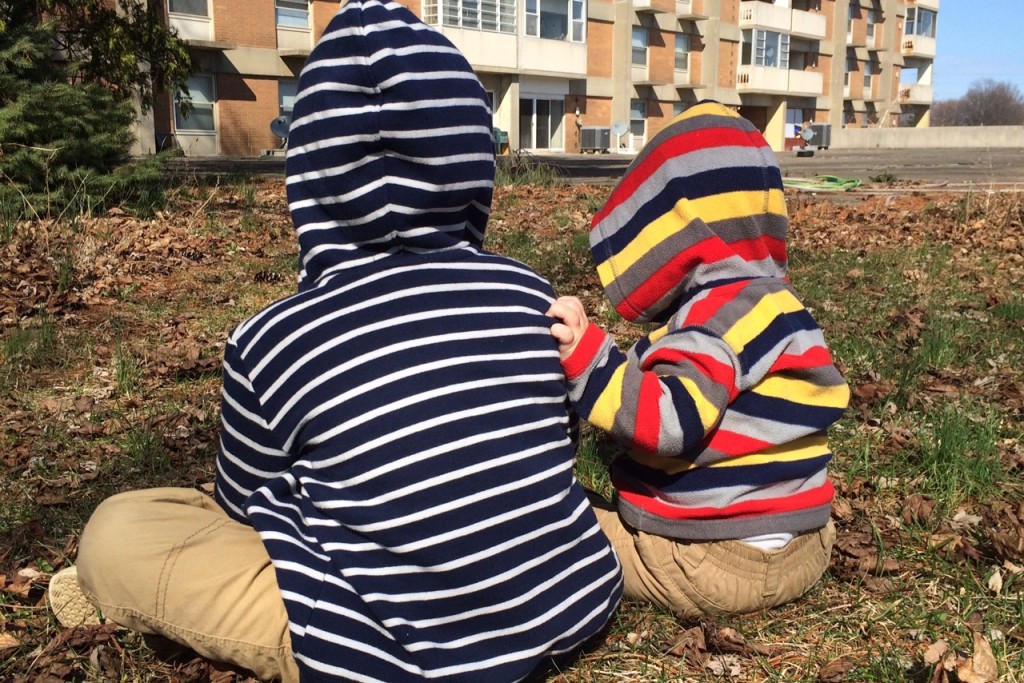 Waiting for Mike to hide eggs for their egg hunt. 
1. I always hear that men don't stress about life-work balance as much as women do, but I'm not sure that's always true with this generation of dads. When Mike got his job offer, he asked them specifically about his schedule because he wants to be able to see his kids more. Some marriages thrive with split responsibilities – one person takes more responsibility for the kids and the house and the other person makes the money, but we definitely don't thrive under that model. Mike gets burnt out and misses his kids when he's gone all day and I get burnt out and impatient when I'm home with the kids for an entire day. We prefer to share time in the home and out of the home so no one goes too crazy (including our children. Seeing both us is better for them than just seeing me alone for 40 hours a week). We're both so looking forward to more balance this summer.
2. Gabe is super addicted to technology. If it has a screen, he's like a moth to a flame and starts trying to use it. It drives me absolutely crazy (not because technology is bad, but because he's addicted and that's annoying). I made him go TV-free for most of Lent and it was good for all of us (again, not because TV is bad! But because post-turning-off-Netflix Gabe is a bear). He still finds the iPad/iPhone/iWhatever irresistible, but no longer expects to get to watch TV as soon as I sit down to work. The other day, he even played with Legos for an hour! (And right now he's with Theo entertaining him after he woke up from a nap. Three cheers for big brothers!)
3. Easter was great. Last Easter I was incredibly ill with an awful stomach flu (at 30 weeks pregnant, right after I had finally stopped getting sick from pregnancy! Ah, fetus Theo was quite a joy.), so I was happy to be out of bed and doing Easter egg hunts (3) and making my children wear matching outfits and other such fun.
4. I've taken it upon myself to start teaching Gabe how to prepare food. He learned how to cut an apple with a knife on Monday, make boxed macaroni and cheese on Tuesday, and today he made himself a peanut butter and jelly. What's next? Scrambled eggs or tofu? French toast? If all goes according to plan, he'll be making all of our dinners by 2020.
 5. Work is super right now. Super awesome, super busy, super everything. I started doing this work because it is portable, so whenever Mike got a job in another city (as we expected with a PhD), I could keep working without job hunting. And now the time is here and whoa, life. It's like it just keeps happening and stuff that seemed years away is here and I'm 30 and my kid is going to be 5 this year and suddenly I'm curled into a ball singing "Stop this Train" to myself.