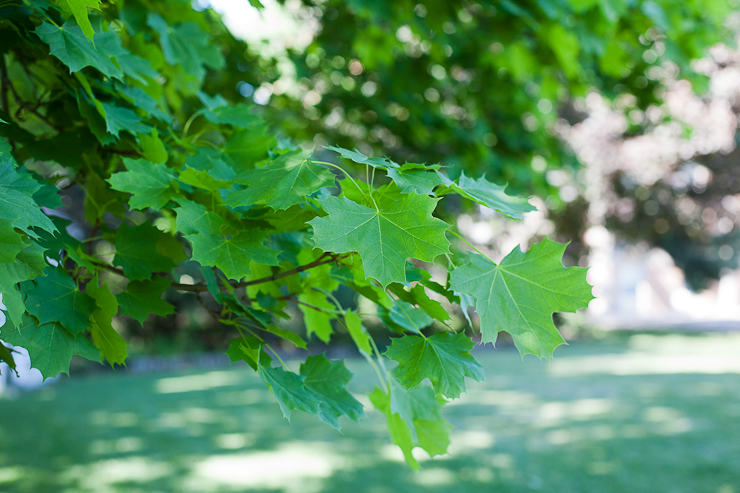 I have a pair of denim capris that I've owned for six years and I feel fat every time I wear them.
I put them on and, without fail, I have some major muffin top and belly bulge. I never feel that way with my other jeans. I mean, sure, I have some trouble areas that I know are not perfect, but I don't feel quite as aware of them as when I'm wearing these particular jeans.
Every summer, I pull them out and put them on and feel kind of gross. And then I sit down and I feel even more gross (tight waistbands magnify in terribleness when you try to sit down). Instead of throwing them away,  I just end up wearing some loose flowy top with them to hide the bulges that appear.
I hold onto them, thinking maybe they should be some kind of goal, like, maybe I should aspire to be able to look good in these pants. But the thing is, I bought them six years ago and I never really felt good in them – they always felt a little tight and the material was all wrong and cut and fit were just off. But instead of noticing that, I noticed the way that they made me feel and thought there was something wrong with me for not looking good in them.
So, I held on to them and they always were so uncomfortable. Every summer.
I was telling Mike about the pants and he said, "Well, just get rid of them. You don't usually feel bad about your body, but you put on this pair of pants and feel bad. So, the pants are the problem, not you."
And it's kind of embarrassing that it took me six years to learn that lesson. It made me wonder what else am I holding onto out of a sense of what I feel like should do or should be or should aspire to?
Some people stay in relationships that aren't working or stay at a job they hate for six years.
We all have had friends who make us feel bad after hanging out with them. Those toxic friends who we have to walk on eggshells around and we fret "Gah. I hope I said the right thing!"
We tell ourselves, "Maybe if I'm just a better friend, it will work out. Maybe if I work harder. Maybe if I'm a better girlfriend. Maybe I can solve those problems if I change everything about myself."
Those things are all worth trying (well, maybe not the last part), but if that job still sucks, it's not your failure if you go find another job that might be a better fit. In fact, it's the opposite of failure. Sometimes things just suck and it's not always your responsibility to fix them.
Maybe I'm taking this analogy a little too far, but I think some people blame others when things don't work well and some blame themselves. (I'm sure if you asked Mike, he's say I blame him too much when we bicker), but I also tend to think, "I will do everything in my power to make this work." Like those pants. Or if I have a client who I really should part ways with amicably if it's just not working out, if they're just not respecting me and my work and are constantly trying to squeeze every penny out of me. Instead of just being all, "Okay, it's cool. You don't get what I do and hopefully you can find someone who's able to take care of you because I just don't have the time right now," I try even harder to make it work, which negatively affects my other clients.
All of this reminds of some thing I recently found (who knows where, but I'd pin it on Pinterest if I were that kind of girl):
This totally called me out when I stumbled across it. It gave me the kick in the pants I needed to put into motion something I've been wanting to do for some time.
But more on that later.