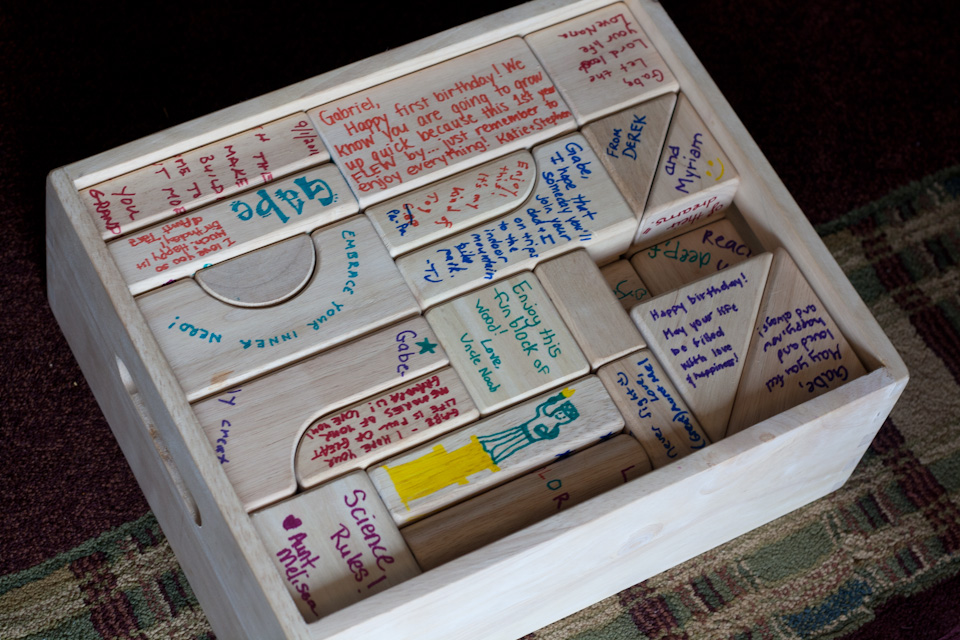 When I wrote about Gabe's first birthday party, so many of you commented on the blocks that I wanted to share why I did it, how, and how it turned out.
Why:
First birthdays are exciting! Gabe got to eat chocolate cake, play with lots of his cousins, and skip his afternoon nap. However, he won't remember it. Sad, since it was lots of fun. I didn't have the time or money to go crazy with his first birthday party, but I knew I wanted to do this at his party. (And, happily, it requires little effort!) A mix of a toy and a guest book, these wooden blocks with love notes from his family and friends are a classic toy that he'll play with for many years. And he'll see how much they love and care about him. And that makes my heart happy.
How:
The supplies:
Sharpies in lots of colors. (I borrowed these from work…heh.)
A set of natural finish blocks. (I got these. Ages 3+, psh.)
An 8×10 frame.
A print out of this: "[Baby's] Blocks: Take a block and write a wish, hope, or dream that you have for [baby] on it with a Sharpie. Be sure to write your name. [When s/he's playing with the blocks, s/he'll be surrounded by loved ones!]"
The doing-it:

I set up a table near the entrance with a basket of Sharpies, slid the instruction sheet into the frame, and had Mike do a sample one to get things started.
Most people noticed the table when they first came in, but I made sure to badger everyone if they didn't see the table.


The Result:
I was honestly surprised at how awesome it turned out. We got funny, we got creative, we got sweet, we got scribbles. A few of them even made me tear up (I know. I am a loser.) I hope so much that they don't fade much over time, but in case they do, I took photos of each one to share with Gabe. And, with you: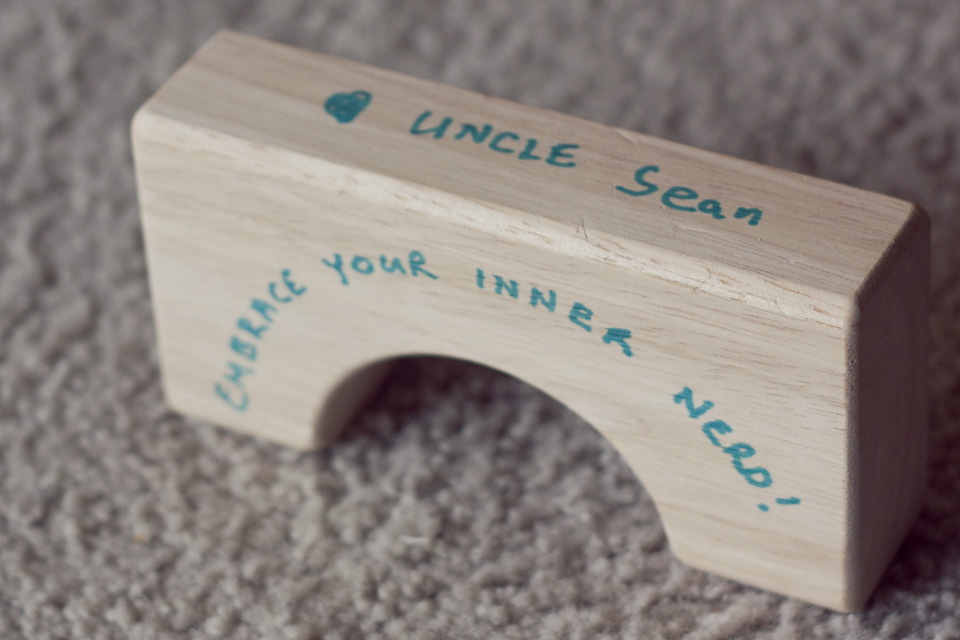 I hope Gabe takes this to heart.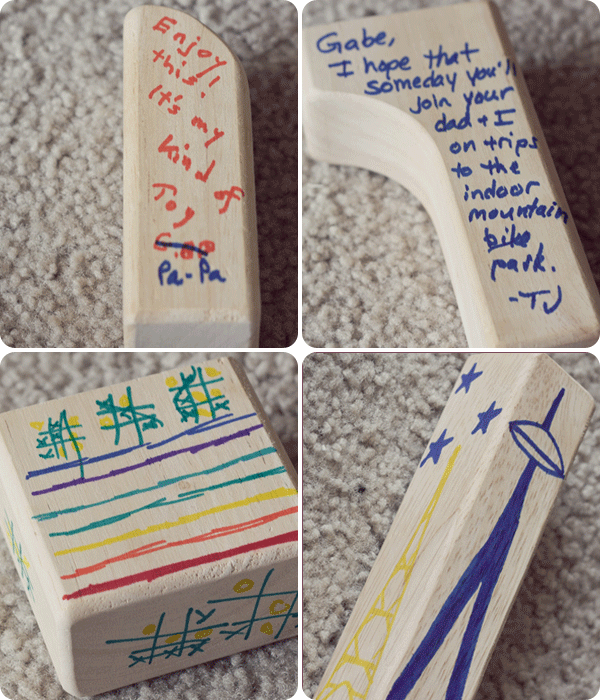 Clockwise from top left: My grandpa is adorable, TJ's block made me smile, tic-tac-toe, and our (adult) friend drew famous landmarks from around the world on his block…and tried to blame it on someone else. (It looks great, Stephen. Be proud!)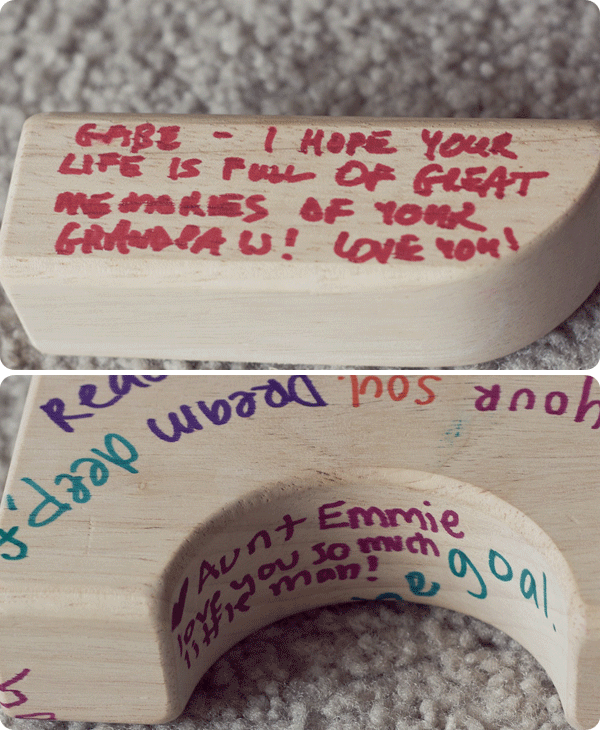 My dad and sister. :)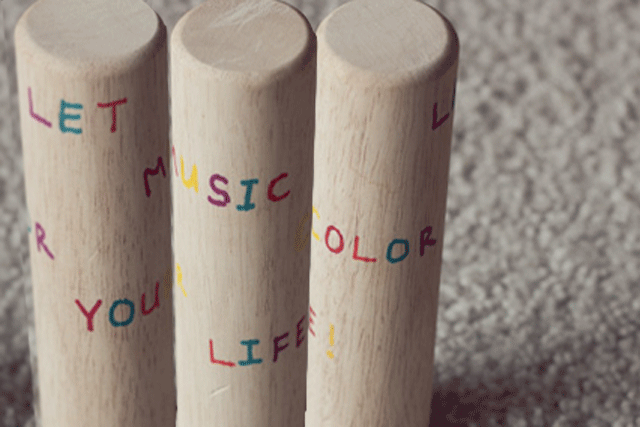 Let music color your life!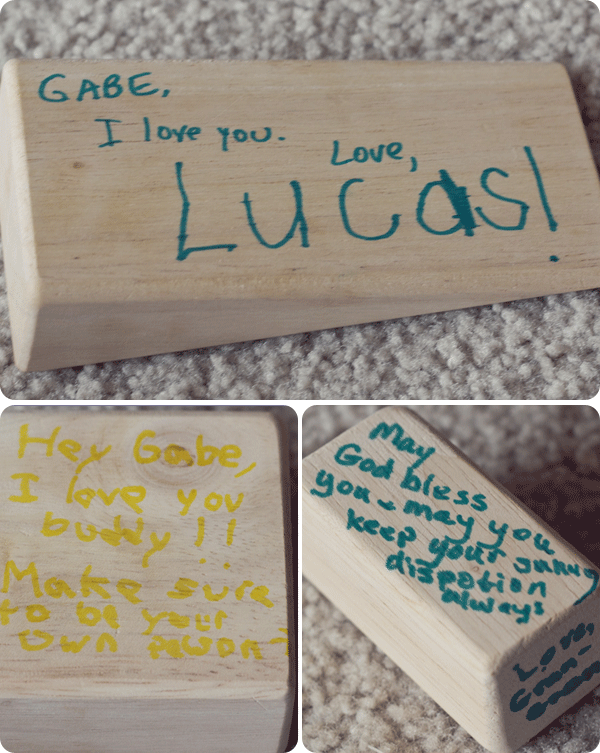 These blocks are like little nuggets of wisdom: "Make sure to be your own person."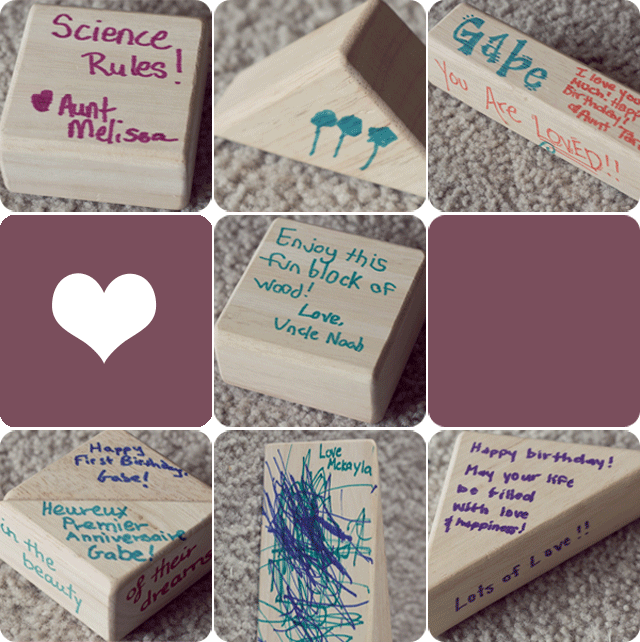 Gabe is lucky to have so many awesome people in his life. (As are we.)