Many adults recount the things they'll eat now that they wouldn't touch as a kid – like onions, tomatoes, or peas. We generally start out pickier and learn to try new tastes and textures. We learn that, hey, goat cheese is actually fabulous and fresh tomatoes were only gross because they weren't in season.
Well, I grew up thinking that low-fat or fat-free food (especially dairy products) were obviously the right choice if you wanted to be healthy.
Except.
I  became an adult and realized that my taste buds had been robbed because the full-fat versions were SO MUCH BETTER. (The first time I typed that, it said, "So much BUTTER." Freudian slip. Because butter IS great.) And instead of gaining weight when eating the full-flavor versions, I just ate less of them because it was so much more satisfying.
Here is my own version of This, Not That.
Whipped cream vs Cool Whip: Cool Whip is not food. It is suspended corn syrup solids in soybean oil. GROSS. No. I am generally an open-minded, accepting person, but I do not understand people who prefer Cool Whip to The Real Thing. A customer at Starbucks once told me that "whipped cream is basically fatty air." Well it may be fatty air, but it is fatty, DELICIOUS air. (Honestly, I don't get whipped cream on my drinks much because it is so caloric. BUT! I will eat it on every pumpkin pie and ice cream sundae now until forever. Amen.)
Plain yogurt vs. Light N Fit: I spent my whole college life eating little plastic cups filled with aspartame-and-fruit laced yogurt. I was surprised when I learned how much extra stuff was in those light yogurts (replacing the fat). Now, I eat plain or vanilla yogurt – stuff without gelatin and aspartame – that I make myself (using this) or buy in multiple serving tubs. The yogurt is a million times better and has none of the fillers.
Maple syrup vs. Brown sugar water: My parents are intensely frugal – they both grew up in huge families with single incomes. Their frugality is fantastic and set a wonderful example for me. However, this penchant for saving money at all costs has gone too far. When we had pancakes as a kid – we'd happily stir up the "syrup" while Mom or Dad flipped pancakes. This "syrup" was really just 1 cup of water, 2 cups of brown sugar, and maple flavoring. And you know? I might do the same if I ever have 5 kids that like to drench their pancakes in sugar. But once I had a taste of real maple syrup, I knew there was no going back. It is a splurge, to be sure, but oh MAN, is worth it it. (To use less, both for health and cost reasons, I usually drizzle a few teaspoons of syrup on my French toast, then slather it in homemade plain yogurt. It's just sweet enough and gives me some extra protein. Plus, I think I still like that drenched pancakes taste from eating breakfast as a kid. Mmm.)
Full fat  vs. reduced fat cream cheese: I had no idea what kind of off taste reduced fat cream cheese had until I compared it to full fat. Again, I think the fillers that replace the fat are noticeable. I  am never going back. Amen.
Homemade frosting vs EVERYTHING ELSE: Actually, this isn't an issue of adult taste buds, since my mom has always made buttercream frosting from scratch, so I've always hated tub frosting. But it gets an honorable mention because real-butter homemade frosting is really one of the best treats in life.
2% milk vs. nonfat milk in lattes: Until two years ago, I got skim milk every time I ordered anything at Starbucks. Save fat and calories, right? Then I worked there and tried a latte with 2% milk and my life was changed. It's like angels sang. The espresso tastes richer with the 2% milk. And now nonfat lattes taste sort of…thin? (I feel the same way about using skim milk in my coffee instead of half and half.) I will, however, get skim milk if I'm getting a drink like a white mocha or a caramel brulee latte, since there's milk in the sauce.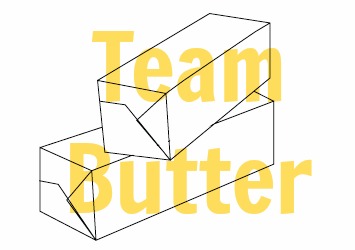 Amen.