Trader Joe's is everyone's favorite grocery store. And for good reason – it's incredibly affordable, excellent quality (for most things), and for the adventurous eater, there is always something new to try. Here is what I love to get there regularly: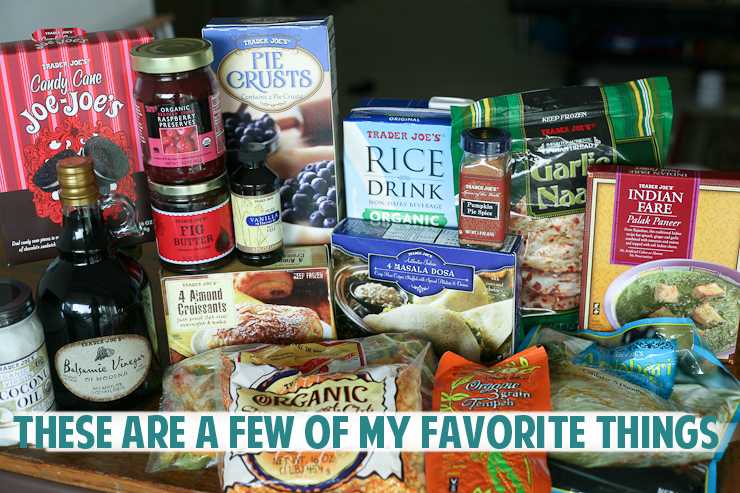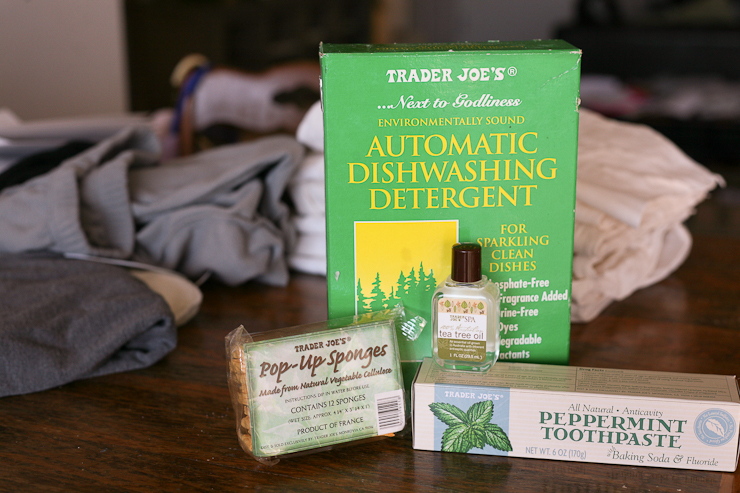 The nearest Trader Joe's is about 45 minutes away, so we go once every month or two and go crazy (and make a trip out of to the east side of Cleveland).
Here is what I love to buy at Trader Joe's:
Coconut oil – In baking, in cooking, when shaving, etc etc. This stuff actually tastes like coconut, which I really like.
Balsamic vinegar – Great for roasting veggies. I love this bottle, which is 75% why I buy it.

Candy Cane Joe Joes - My obsession with these are well documented, so I won't elaborate. Just know that my stash last year lasted until this spring.
Preserves – The cheapest I've found without HFCS. And Mike loves his PB&Js.
Fig butter - To be consumed on grilled cheese or with baked brie. SO GOOD.
Almond and chocolate croissants – Put these out the night before on a cookie sheet, let proof overnight, then bake in the morning. BAM. Just as good as the bakery. I am full on obsessed with these. And so is Gabe.
Alcohol-free vanilla – My favorite vanilla.
Frozen pie crusts - The only pie crusts I've found that have real butter and no weird chemicals in them. Flaky and delicious and perfect for quiches or veggie pot pies.
Rice milk - The cheapest, tastiest non-dairy milk I've found. We use it on cereal. And sometimes in baking.
Masala dosa - Tasty frozen Indian food is a theme.
Naan - Mike eats these all the time. I eat them with palak paneer. A little butter right out of the oven and YUM.
Paratha -Indian bread that is flaky and crispy and SO GOOD. I like them better than naan.
Palak paneer – You can't go wrong with cheese and spinach.
Pumpkin pie spice – It's cheap and I love using pumpkin pie spice instead of just cinnamon.
Tempeh – The cheapest I've found, and it's even organic. (Cheap is a theme here.)
Frozen veggies - Already cut, which makes cooking healthy much easier. Less prep and still tasty in the winter.
Non food stuffs:
Tea tree oil - I use it on cold sores, on my scalp, and blemishes.
Toothpaste – The cheapest natural (aka: sodium lauryl sulfate, which causes canker sores) toothpaste.
Cellulose sponges – Compact, cheap, and work well. Also, biodegradable.
Not pictured: tofu (SO CHEAP!), salsas,  laundry detergent, lavender dryer bags, Preserve toothbrushes, various cheeses, chewable vitamins, and wines.
/ /  / / / / / /
Okay, who wants to make a Trader Joe's run with me? And more importantly, is there anything I should be getting regularly at Trader Joe's that I'm not?