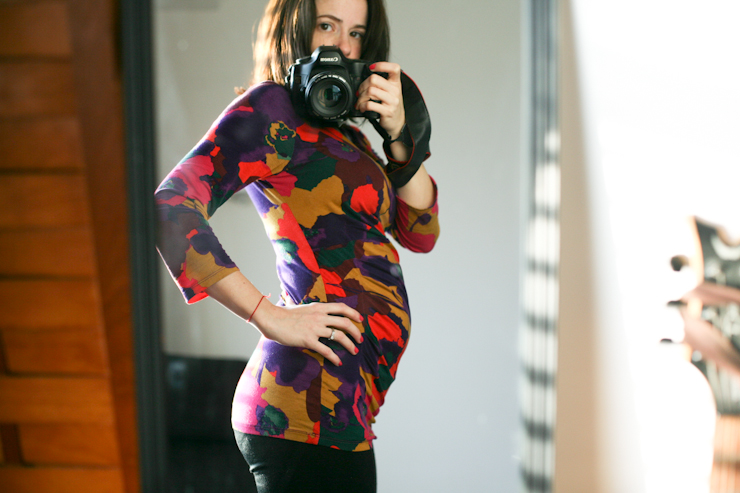 Time for our bi-weekly navel gazing with Ashley!
How far along? 18 weeks.
How big is baby? A sweet potato, apparently. Which vary widely in size, so I'm not sure that is helpful.
Total weight gain: + 5 pounds (That's four pounds in two weeks. Looks like I'm feeling better!  HELLO, FOOD.)
Updates: Biggest update this week is feeling the baby kick every single day, multiple times a day. After a few weeks of flutters, I felt it kick from the outside at 16w2d and Mike got to feel it at 17w2d. So, so awesome. This is just the best thing ever and I'm incredibly grateful to have that reassurance! My anxiety is way down as a result. Worried? Wait a few hours I'll feel Little Foot poking me. It's so bizzare how the baby kicks are still way down near my bikini line, yet my belly protrudes.
Anxious about: Our anatomy scan in two weeks. Most people think of this as the big gender/sex reveal, but all I can think about is how I hope that nothing bad is revealed. I know too much now!
Excited about: The anatomy scan! I am excited to see the baby again. And I know odds are that all is well, so I'm focusing on the excitement.
Feeling: I like food again, but it's still tricky sometimes. Like the morning Mike got to feel the baby kick, I promptly ran to the bathroom to throw up because I hadn't taken a unisom and got hungry and, well, I guess I'm not 100% yet. Sleepier than normal, too. But mostly good! Just happy.
Exercise: Happily, it got sunny and warmish for a few days, so I was able to run outside twice (and on the treadmill once). I'm also quite fond of the 7 Minute Workout and a little yoga. I took the first 10 weeks off running, but then eased back into it with a couch to 5K app to make sure I wasn't pushing myself too much. I just love running and hope I can continue doing it! My belly is becoming noticeably heavy, though, when I start my run, so I might need to get a belly brace thing (I think that's a thing?) eventually.
Sleep: Same same. Still popping a nightly Unisom and B6 to keep the morning queasies at bay, and BONUS! that helps me sleep.
Movement: This stage of movement is so cute. It's like cautious little pokes that in a few months will be violent elbow and heel jabbing. These pokes are soft and gentle. I pretend like the baby's all, "Hey, Mom? Is that you?" while later he'll be stomping his feet in anger. It's possible I'm giving a fetus too much credit for his ability control his muscles. I've seen newborns. They have no idea how the heck to move their limbs.
Food cravings: Lots of potatoes. Grapefruit. Noodles. A sad, unfulfilled craving for sugary cereal.
Misc:
It bothers me unnecessarily when people say "I'm 16 weeks pregnant, so 4 months!" I don't know why. Maybe because it's inaccurate? I'm ridiculous. I realize this. But I was happy to find this website where you plug in your due date and it tells you how many months you are (easier consumption for the non-pregnant people who don't track their lives in weeks) and what percent complete you are with the pregnancy (45%!) Accurate months for everyone! No more 24 weeks = 6 months nonsense! (And everyone starts to realize how crazy I actually am…)
My stomach is a billion percent bigger at night (what was I saying about valuing accuracy?). Evidence. And yet people still tell me how tiny I am. I DON'T FEEL TINY. Does this mean my stomach normally looks like this and don't realize? I have Concerns.
I've already outgrown my pregnancy bras from Gabe. Oh dear.
My skin was awesome with Gabe. My skin is decidedly not awesome this time.
Despite the fact that my nausea and skin are worse this time, I think I am having a boy. Perhaps because I loved having one little boy and can imagine having another. I did dream I was having a girl, however.